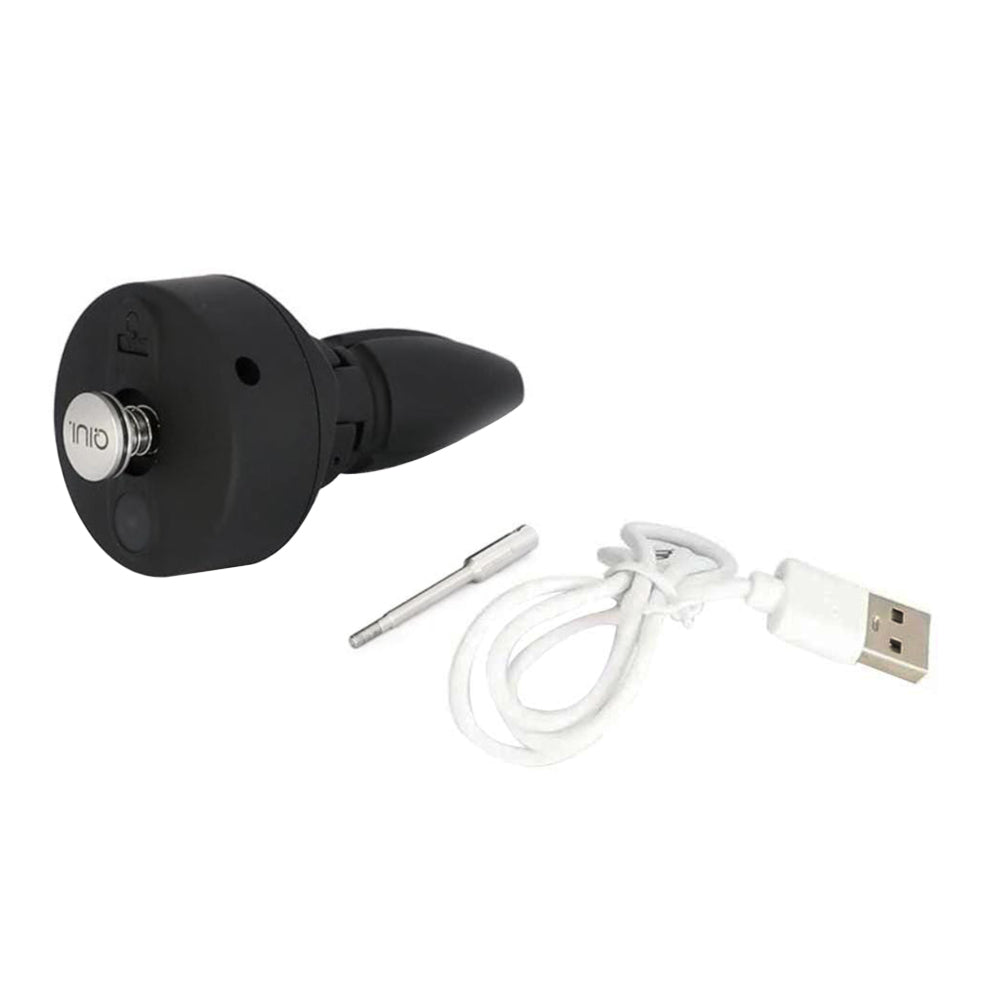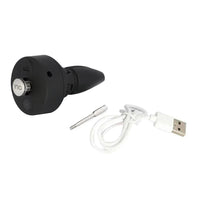 Pear Flower App Controlled Butt Plug
Add a new kind of restriction to your anal experimentation with this unique locking butt plug!

Always chasing that feeling of fullness that only the largest butt plugs can offer? Stretch your ass to the limits with this expanding plug. The main body of the plug might look like every other plug but it can open up into three petals, providing new sensations to parts of your butt no other plug can reach. Insert the plug, expand the petals, and the plug will stay firmly in place.

But this flower-like plug is so much more than the usual expanding butt plug. Thanks to its Bluetooth functionality, you can pair it with the QIUI app and open up a whole new world of anal pleasure.

Experiment with its features and test your limits. Once your device is set up, insert the plug, expand the petals and push in the locking mechanism to force the device to stay in place. After you've locked it, the only way to escape is through the app. This gives complete control to your partner and leaves you at their mercy.

While already perfect for BDSM and submission play, you can make things even more interesting by handing over control to anyone around the world. The QIUI app means wherever your partner is, they get to decide when, and if, you'll be allowed your freedom. You can even pair up with complete strangers, and sit in agony, wondering when they'll let you out.

Enhance the Pear Flower even further by removing the unscrewable cap on the locking mechanism and attaching your own chains or leashes. Or, embrace your stylish side and attach a luxurious and fluffy tail to your plug. Whatever your preferences, this anal toy can be customized.

With a built-in rechargeable battery, an emergency key, and an IPX7 waterproof compliant design, this is one butt plug you can't afford to miss! Order yours today.

Specifications
Color
Black
Material
Polycarbonate, Silicone
Dimension

Length:
86 mm / 3.4 inches


Insertable Length:

48mm / 1.9 inches

Width/Diameter:
Closed: 12mm / 0.47 inches


Opened: 35mm / 1.38 inches
Package Contents
Choose Pear Flower today and expand your anal horizons.
Each box contains:

One Pear Flower Butt Plug Device

– The most fulfilling butt plug on the market. The Pear Flower device is made of durable polycarbonate covered in silky smooth silicone. No matter how long you can handle wearing it, the Pear Flower will always be ready for more.

One Detachable Screw Cap

– Get the Pear Flower you want by attaching any compatible accessories you fancy. Simply remove the detachable screw cap, and screw on your new enhancements.

One Emergency Removal Key

– Never be caught out. Whether you're ghosted by your online partner, or just suddenly have that urge, if you really need to remove the device simply slot the emergency removal key into the base of the device.

One USB Charging Cable

– Charge your device with any USB slot.

User Manual

– Complete documentation to make sure you get the most out of your new anal plug.
Product Support
Ensure your read the complete user manual that comes with your device before using it.
Quick Start Guide:
Download and install the QIUI app.

Pair your Pear Flower Butt Plug with the app

before you use it.

Insert the plug with the petals in the closed position.

Push in the locking mechanism and the petals will open up. Once the locking mechanism is pushed into place,

you will not be able to remove the plug without using the QIUI app.

To remove the device, navigate to the Pear Flower section of the app and press the unlock button.
Loveplugs is committed to getting your products to you as fast as physically possible. All products featuring our Express Shipping banner will be shipped directly to your door from our US based warehouse. If delivering to continental US, your package will be shipped within 4 days. Products can be shipped internationally, however delivery will take longer subject to your local delivery services.

All Loveplugs packages will be shipped discreetly with no markings to identify what's contained inside. There's no need to worry about awkward questions from neighbors or the postman.
TRUE ANAL FULFILMENT
Push your ass to the limits with the Pear Flower's expanding petal design. Once you've inserted the plug, open up the petals and feel them pushing and stimulation parts of your body that you didn't even know existed.
GIVE YOUR ASS TO ANYONE
Pair your Pear Flower with the QIUI app and let someone else decide when, and if, you can remove your plug. Even if you're apart, you can still play together. Until your partner taps the button, there's no escape from your anal restriction.
Make Pear Flower Your Own
Customize your Pear Flower however you want. Simply remove the unscrewable cap on the bottom, and attach any other compatible accessories. Tails, chains, leashes or anything else you can find to make your Pear Flower the perfect toy for you.
IPX7 Compliant. Rechargeable Battery
Each Pear Flower comes with a rechargeable battery installed, and the included USB charging wire means you can always make sure yours is ready for action. It's polycarbonate body will withstand plenty of punishment, and you can even use it in the bath or shower thanks to the IPX7 compliant design.